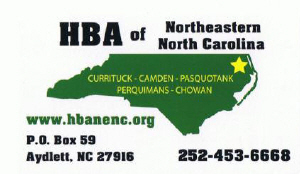 The
NENC Home Builders Association
is having a Home & Remodeling Expo on April 30th & May 1st at the Knobbs Creek Recreation Center. Booths are a bargain at $250 for HBANENC members or just $350 for non-members.
They are doing a lot of advertising to get people to attend the event and we need to impress the attendees with
lots of great exhibits
! A home show should be a great place for homeowners to come out and get ideas and meet companies who can help them improve their homes so let's all be there!!
In our business we're finding that face-to-face marketing, getting in front of the public, is really working right now. The investment in a booth would surely benefit any Chamber Members who sell home & garden related products and services and maybe even other products and services as well!
Anyone who wants to get a booth should quickly contact:
Home Builders Association of Northeastern North Carolina
Sheryl Lovitt, Executive Officer
P.O. Box 59
Aydlett, NC 27916
252-453-6668
nenchba@mchsi.com
www.hbanenc.org
(
You can print out an application from this site!
)